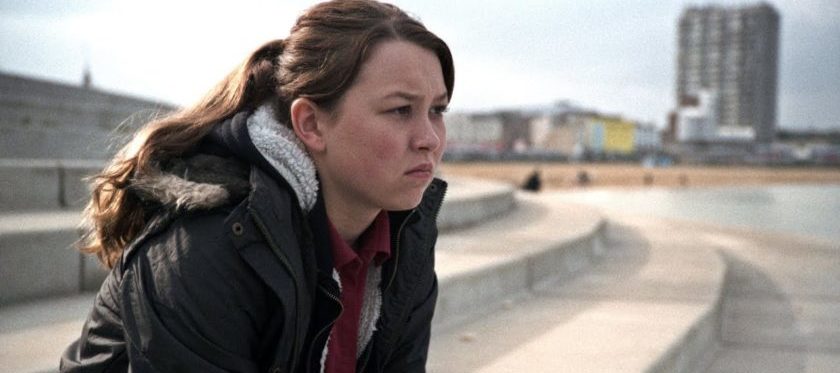 Jellyfish has already garnered numerous awards since its premiere at Tribeca, including at Edinburgh (Best Actress Awards for Liv Hill and Sinéad Matthews), Dinard (four trophies including the Grand Prix, Best Screenplay and Critics' Prize) and Rome (Best Film in the Alice Nella Cittá section). The younger of its two major actresses has won numerous awards, has been nominated for Best Breakthrough Performance at the British Independent Film Awards and has received special mentions at both Dinard and Rome.
At 15, Sarah (Hill) finds herself, as we are soon to discover, with some pretty serious responsibilities, as her mother, Karen (Matthews), practically mute, doesn't seem to leave her bed or the sofa, sitting in front of the television as if she were hypnotised. And as for her father, he doesn't seem to be on the scene, leaving the teenager entirely responsible for the daily lives of her siblings: her brother, Marcus (Henry Lile) and her sister, Lucy (Jemima Newman), who she must take and collect from primary school, pick up, dress, feed, reassure, etc.
As money is tight, Sarah also works part-time at a nursery, where her boss (Angus Barnett) operates shamelessly and where various customers offer her extra cash in exchange for a quick hand job. A precarious existence, which fails to improve when the girl realises that the family owes three months' rent and that her mother's benefits have been suspended – the latter revealing herself to be bipolar and subject to enthusiastic spending sprees, especially at Dreamland Amusement Park.
Grappling with an increasingly serious situation, which she continues to hide from the outside world, Sarah, who is very strong-willed, is encouraged (a lot) by her drama teacher (Cyril Nri) to pursue her potential in stand-up comedy. She begins to write a skit while struggling desperately to keep her family afloat. But the boat starts to sink, and the world is a cruel place… 
After the screening on Sunday 24th of February, we are delighted to be joined by director James Gardner for a Q&A.