Edinburgh Previews: John Luke Roberts & Mark Watson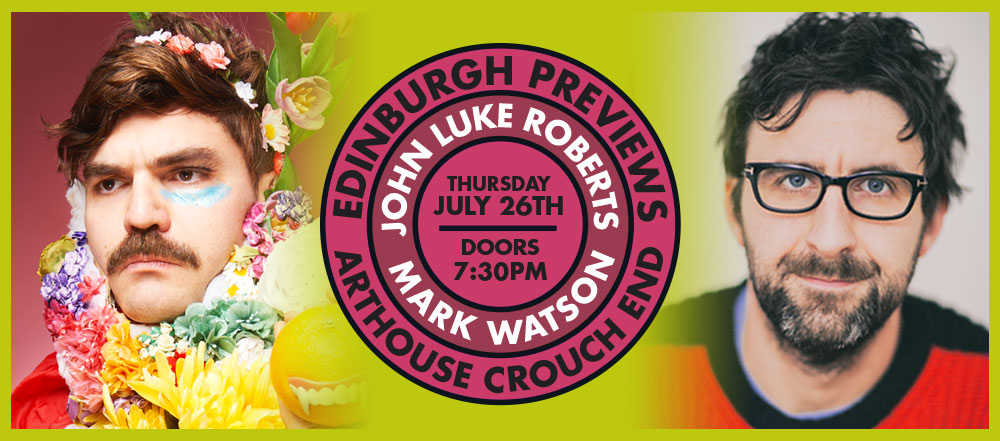 Mark Watson and Impatient Productions present the best of the Edinburgh Fringe comedians. See these preview shows before they are all shiny and polished and taken up to the Edinburgh Fringe Festival this August. It's the best opportunity to see how jokes are born and stars are made. Your ticket buys you not one, but two full shows from an incredible hand-picked selection of the nations best comedians.
Doors 7.30pm. Show starts 8pm.
NB. The order the shows below are listed are not necessarily the order they will be performed in on the night.
Please note latecomers may not be admitted.
JOHN-LUKE ROBERTS: All I Wanna Do Is [FX: GUNSHOTS] With A [FX: GUN RELOADING] And A [FX: CASH REGISTER] And Perform Some Comedy!
Quick, hide! The Fringe favourite returns with a brand-new hour of extraordinary absurdist character comedy nonsense. Just terrific. Blam blam! 'A show as bafflingly stupid as this should rightly divide an audience down the middle, but through some strange alchemy the crowd absolutely lap it up... a consistently hilarious hour of measured madness' **** (List).
'An hour of joyously daft character comedy' **** (Telegraph).
'This is alternative comedy close to its pinnacle' **** (Chortle.co.uk).
MARK WATSON: THE INFINITE SHOW
Our own Wangabout host Mark Watson brings his Edinburgh preview to his native Crouch End.
Cluster-bombed with yoghurt on Taskmaster, half-killed on The Island, Watson returns to what he's best at: being indoors. This show began as a work-in-progress in Edinburgh last year and now makes its official premiere. It's about empathy. Ninety-nine percent of the world's population is made up of other people – why can't we understand them? One of the Fringe's most beloved and thinnest acts offers some suggestions. Complete sell-out 2014-2017. 'He sparkles with originality and verve' (Chortle.co.uk). 'Arrive early for the longest queue in Edinburgh' (List). 'Hugely entertaining, craftsmanlike, remarkable' (Telegraph).
http://www.markwatsonthecomedian.com
@watsoncomedian
Line-ups subject to change
TICKETS
Click on a time to book tickets
---
---