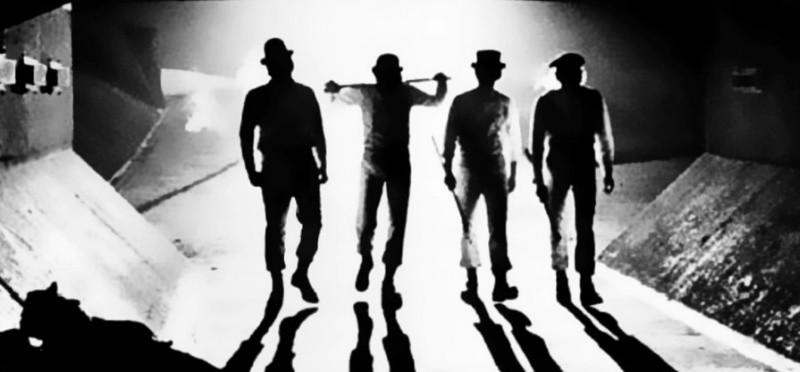 Only two years away from its 50th anniversary, Stanley Kubrick's adaptation of Anthony Burgess's 1962 decline-of-civilisation novel, A Clockwork Orange, remains a chilling, thrilling and unsettling cinematic vision of nihilistic violence and social control. Released by the BFI in cinemas around the UK from 5 April 2019, this will be the first UK-wide re-release of A Clockwork Orange since 2000, enabling another generation to see it on the big screen.
Set in a flamboyantly stylised near-future, where gangs of disenfranchised teenagers indulge in narcotic cocktails and revel in acts of 'ultraviolence', the film centres on charismatic but deadly Alex DeLarge (brilliantly portrayed by Malcolm McDowell in one of his most famous roles) and his band of equally brutal droogs; Dim (Warren Clarke), Georgie (James Marcus) and Pete (Michael Tarn). Eventually arrested and imprisoned, Alex shortens his sentence by agreeing to take part in a government-run experiment to cure offenders through aversion therapy – the Ludovico Technique – in which he is tied down, kept awake and forced to watch violent, sexual and anti-social activity while listening to Beethoven.
The story is narrated by Alex himself, speaking in 'Nadsat', a form of Russian-influenced English devised by Anthony Burgess who was also a linguist.
The violent attacks and rape scenes in the film made it highly controversial upon its release in the UK and in the glare of publicity Stanley Kubrick received death threats. He personally asked Warner Bros. to withdraw the film from distribution in 1974 and it was not seen on the big screen again in the UK until after his death in 1999.
TICKETS
Click on a time to book tickets
---
---